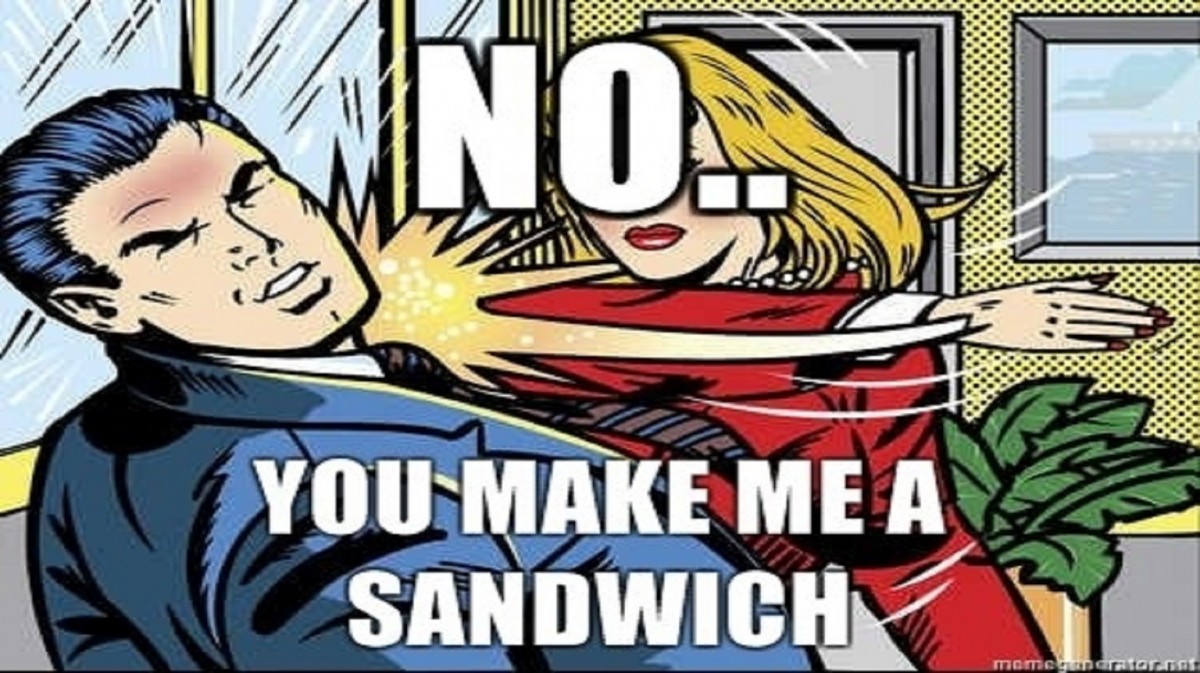 https://www.youtube.com/watch?v=LEH-H6BI754
Still a Man by Tony Toni Tone
The essence of masculinity is power. The essence of femininity is love. Men want power; women want love.
Heterosexuality is an exchange of female power for male power expressed as love.
The Illuminati is teaching women to seek power instead of love in order to neuter and destroy both sexes. A Trump test will be whether he stops this war on heterosexuals.
"A man will not care about something that doesn't belong to him. He should find a woman who is prepared to belong to him, surrender power in exchange for love. The woman is the heart. The man is the head. A creature with two heads is a monster. "
I am grateful that I married a traditional woman.
I don't sacrifice any freedom for love. I am in charge. My wife is comfortable with that. I am twice as free as when I was single.
My wife is
passive
by nature. Passivity is the natural female principle. The marriage of active (male) and passive (female) is the basis of heterosexuality.
But it is heresy to say so.
Women are now actually ashamed to be homemakers. How did this happen? How did motherhood go from being honored to being stigmatized? This transformation is the trajectory of Illuminist subversion of America. The Illuminists prefer women to be corporate widgets rather than wives and mothers.
.
A woman needs a man to love her. The notion that she should be "independent" and career-oriented is absurd. As though pounding a mail route is superior to making a home and caring for loved ones. As if obeying a boss is somehow superior to assisting the man who pledged his love and devotion to her.
There is no greater blessing than a woman whose grace, beauty and love warms a home like sunshine. There is no greater gift than the nurturing love she gives husband and children. Only Satanists would try to sabotage and destroy this love.
THE PASSIVE (FEMALE) PRINCIPLE
The passive principle is the earth principle. The earth receives sunshine, water and seed and produces life. A woman receives a man's seed and performs the miracle of human birth.
A woman in love wants to recreate her husband in her children.
Bearing and nurturing the young is the essence of female psychology.
They love (sacrifice themselves) and are loved in return.
A woman is not going to be loved permanently for her appearance or accomplishments. Love is not like that.
We love the people who sacrifice for us.
Men also sacrifice by supporting their families and providing leadership. Happiness can only be found in self-sacrifice (love), not self-seeking. Human beings were designed to look after each other.
THE ACTIVE (MALE) PRINCIPLE
The Male Principle is the God Principle- purpose, energy, form and direction.
Women want to look up to their husbands. They tend to seek men who are older and more successful. Why? They want their husband to be like their father was (or should have been), strong, capable, reliable, protective and nurturing.
More than anything, they are seeking emotional and physical security. They feel most secure when
they feel possessed
by a strong, loving man.
A man should prepare himself for this role. He should have a clear vision of what he wants to do with his life. If he is lost, he might ask God how he can serve Him.
What was I born to do?
A man's first passion should be his work - the source of his power. In contrast, a woman was not designed to get meaning from a career. A real woman's primary career is her husband and family. A man's job is to enable her to make that sacrifice securely.
Despite what feminists say, a man should
never show weakness.
The essence of masculinity is power. Women exchange power for love. When men do it, they become women.
A man should know what role he wants his wife to play. A man usually chooses on the basis of sexual attraction. What else does he want? I appreciate my wife's reasonableness, intelligence, competence, and sense of humor. She has a graduate degree in Information technology. Think of the long haul. You spend 1% of your time having sex. You need someone who is easy to live with.
Most women were meant to be wives and mothers. A man should think about becoming a father and the responsibility this entails. He is not only providing for his offspring, but also teaching them to be good human beings. He is creating a new world, a family.
The man is the head; the woman is the heart.
Marriage is about dependence, not independence. It is about union, two people becoming one. For women, surrender of power is the essence of love. If a woman can't trust a man with her life, she doesn't love him and shouldn't marry him.
The heterosexual contract is this. The husband has the power and he does his best within reason to make his wife happy. A man cannot love a woman if he doesn't have the power to grant or deny her wishes.
But a man must keep his end of the contract, or the marriage is off. The same applies to a woman.
If she doesn't respect his leadership, he needs to dump her.
THE STALINIZATION OF LOVE
Nobody has a problem with treating women as equal to men. Feminism treats women as though they were men. It portrays heterosexuality as pathology and discriminates against men. Women are favored for jobs so they will have careers instead of children and men can't support their families.


Society is being sabotaged.
Bella Dodd, a former leader of the American Communist Party revealed: "The bourgeois family as a social unit was to be made obsolete." The aim was to "create a new type of human being that would conform to the world they confidently expected to control."
"First You Get the Women, Then You've Got the Children, So Follow the
Men"
-Adolph Hitler, another member of the Illuminati



CONCLUSION
We can fight the New World Order by having strong male-led families.
After a couple of marital mishaps, I finally have a frictionless marriage. My wife and I complement each other. She doesn't compete, criticize, complain or try to control, the four C's. She tells me if something is wrong. I try to make her happy. She's part of me.

Because of her passive nature, I don't have to constantly anticipate and meet her expectations. Rather she allows me to propose. Usually, she assents. When she doesn't, we compromise. Her acquiescence empowers and completes me.

We disagree politically but that hasn't been a problem. I want her heart, not her head.
I love her. She commits the unpardonable crime. She loves a man.
taken from
The Hidden Knowledge of Heterosexuality
By Henry Makow Ph.D. at
https://www.henrymakow.com/000319.html
'''''''''''''''''''''''''''''''''''''''''''''''''''''''''''''''''''''''''''''''''''''''''''''''''''''''''''''''''''''''''''''''''
How We Become Slaves Of 'The System
https://www.youtube.com/watch?v=THt7o6dzMuw Slave to the Rhytym by Grace Jones
Almost everything you think and do is against your best interest and you don't even realize it. It's planned that way.
The state seeks absolute control of your mind, body and spirit. Can the state succeed? It has, but only a precious few ever know.
Your mind and your thoughts are not your own. Almost every thought you have channels you toward the state.
By the time a child grows up and goes through the public (non)education system, he or she has no thoughts of his or her own. By the time that person is finished with college, the system has sealed his or her thought processes so that nothing is questioned. The imperative to inquire beyond what comes from the propaganda media and our leaders is gone.
Our minds are so smug in darkness and organized confusion that we are complete automatons. Our ego, our individuality, is completely excised and we are completely transferred into the state organism and group thought. Any deviation from the system by anyone is met with hostility by friends and neighbors.
By this we become locked into a system based only on conventional wisdom. Conventional wisdom is what everybody knows. It is the court history (faux history) we receive in school and through the controlled media, repeated ad nauseum.
Conventional wisdom is based on confusion and disinformation. It has a crowding-out effect in our thought processes that stifles inquiry. In other words, conventional wisdom programs us to reject any information or thought not in harmony with our preconditioning and experience. It is called COGNITIVE DISSONANCE.
The more one is formally educated, the more he/she is locked into the system mindset. (Why do you think there is such a push for everyone to receive a college education whether a person is so inclined or not?)
I myself went through four years of college, worked on a master's degree, and attended law school. What a pity! It took valuable time and money for me to pay for the brainwash. It took years to get over it. I had to completely erase this education foolishness before I could begin to have half sense. My inquiring attitude and much, much reading helped me escape the programmed maze that entrapped me. The many conflicts and confusion was emotionally and financially costly.
Not even your body is your own.
A brand new baby gets vaccinations before it leaves the hospital and the parents are glad. They don't question what's in the vaccines or what they're for.
There's even now a push to begin vaccinating babies in the womb. As it is, the state begins to seize an infant's body the first day of its life. It is being prepared for death the day it is born. Then as many as 50 more vaccinations come before the end of high school. All is done in the name of health and for the good of society. It's all for profit of the giant pharmaceuticals enforced by the political system. The parents believe that it's good.
There are many knowledgeable people who are against compulsory vaccinations simply because it is a violation of medical freedom. But the problem goes much deeper. It is at the heart of the survival of the system.
Then there is an organized system of sickness called healthcare. This system must have an endless supply of bodies — yours.
Thousands of tests, biopsies, sonograms, catheterizations, etc., etc., leading to making huge profits through drugs, surgery, radiation, etc., leading to the general demise of the natural immune system guaranteeing sickness and death — yours.
Individual responsibility for one's own health in America is unthinkable and almost nonexistent. It was so planned. They need and want your body. It is huge profits for the system.
Beyond that, vaccines and the sickness care system are about a population control system based on the cold reality of the survival of the money (credit) creation monopoly that rules the world. Consumers will and must die. The push for universal vaccinations is not ideological fantasy. It is cold-blooded conspiracy to control population. California has mandatory vaccination and has eliminated both the religious and philosophical exemption. As California goes, so goes the nation.
When you understand the money system you will know for certain why population control has now changed from an urgency to a priority of the establishment.
Those of you new to Personal Liberty® and reading some of these things for the first time may be shocked and asking, "What do vaccines, healthcare, the money system and population control have in common?"
In a few words, money creation (money creation is credit creation) is the exclusive monopoly of the central bank. In the U.S., this is the Federal Reserve and Federal Reserve banks.
All wealth flows to the creators of credit. But a credit creation monetary system cannot exist without regulation. Regulation is absolutely essential in all areas of life. In America, do we have regulation? In spades.
Specific for this discussion is the subject of population regulation or population control. A credit-based monetary system will break down if it gets more consumers than producers. As our population gets older and "top heavy," consumption exceeds production and, through welfare and social security payments, wealth reverses from the money (credit) creators to the consumers or non-producers. This cannot be allowed over time.
Therefore ways — benevolent ways of course, as they cannot just vaporize you when you reach a certain age, a la "Logan's Run" — must be found to get us to expire when we retire. We have many population control mechanisms in place, including mass medication with drugs and fluoride in our drinking water.
And one of the most sinister and disguised population controls in place is mass inoculations and vaccinations. When our children are vaccinated, there is a certain percentage who die as a result, and many are disabled in various ways for life. However, the most insidious part of it is the development of degenerative diseases much later in life, say about in the 50s and early 60s, at about retirement age.
Human liberty and personal survival in our time must originate in truth no matter how incredible and shocking to our conditioned minds. Governments control the public mind with disinformation and confusion. No modern government could exist for 24 hours if it told the people the truth.
Of course, the establishment news will label these truths as "fake news." Most of the readers
—
due to
cognitive dissonance
—
will label this as "conspiracy theory."
Both are code words designed to make you and keep you as slaves to "The System."
(I realize for many of you your first reaction — especially if you are a newer reader of Personal Liberty, is to dismiss this sort of new information out of hand. You are probably asking, "Who is this Bob Livingston," and "What does he mean?" I urge you to consider it carefully, to follow the hyperlinks provided above, and to take advantage of the related articles below to further your study. –BL)
''''''''''''''''''''''''''''''''''''''''''''''''''''''''''''''''''''''''''''''''''''''''''''''''''''''''''''''''''''''''''''''''''''''''''''''''''''''''''''''''''''''''''''''''''''''''''''''''''''''''''''''''''''''''''''''''''''''''''''''''''''''''''''''''''''''''''''''''''''''''''''''''''''''''''''''''''''''''''''''
https://www.youtube.com/watch?v=WRYC68XCS6s WE need a RESOLUTION by Aaliyah
Check this out: I just realized most of us don't have family, we have a group of users. I use you for this,
you use me for that. As long as nobody gets more than the next person, we are good. As soon as
I can't
use you for what I need, I don't need you anymore or I am mad. You know it's true, you just
can't face it. Most black folks mama's still run their lives. My maaaamaaaa.. Smh. They never learned
what even birds know. You raise them up when they cannot fend for themselve
s, then let them go and
they start the process over with their own family. The idea of family in the black community is what
keeps most of us mediocre. Look at the 'closest' families you know. How many of them are successful?
Be honest. Most of the time you still have a bunch of dependent kids. Dependent on the system or still
begging for parents help.
https://www.youtube.com/watch?v=l0GJ72pL2Sc Let it Go by Jaheim
The mama dies, the son needs to find a woman to use or live off of.
Daughters usually can make it but
they reverse the roles and find a man that they can take care of.
Same reason our marriages don't
work. The kids come before the father to most mothers. Hint, the kids
are supposed to grow up and get
their own families and you and the father will still have each other.
That is the way it is supposed to be.
You cleave to each other, not the kids. That is why some people
mourn for so long when a parent dies.
It is not the loss of the person, it is the loss of what the person
does for them. Why would you mourn for
years? That is not even natural. You might not like what I am
saying but it is true. Quit trying to possess
your kids all their lives. That isn't love. Love is letting go. We
confuse love with neediness.%
""""""""""""""""""""""""""""""""""""""""""""""""""""""""""""""""""""""""""""""""""""""""""""""""""""""""""""""""""""""""""""""""
Its the Blak Smiths turn to burn and in keeping this brief, my intention is to say that regardless of what ya FEEL, I FEEL that its my RESPONSIBLITY to find SOLUTIONS with MOMENTUM going into 2017! If yall choose to ENGAGE US further, it MUST be SOLUTION BASED bcuz the way WE are going as a peepo aint the way! WE are NOT EUROPEANS but WE are having RELATIONSHIPS like em and that must STOP! I REFUSE to continue being CONFUSED when WE have MAÄT to fall BLAK on! Peace and see yall in this FAKE NEW YEAR! Whats in store for 2017? Who the HEAVENS knows?
% taken from Kesha Edwards on Facebook.